First Realty Management Employees Earn Recognition from Massachusetts Apartment Association at Awards Event
Will Woodward & Michael McCauley take home two of six individual awards
(December 2, 2021, BOSTON) - Two First Realty Management Corp. employees were named winners at the Massachusetts Apartment Association's 2021 President's & Achievement Awards held last night.
Regional Manager William Woodward and Maintenance Technician Michael McCauley earned recognition in the Professional Achievement category from the MAA, the regional chapter of the National Apartment Association. Awards were presented for six prominent positions in residential property management: supervisor, site manager, leasing manager, maintenance supervisor, maintenance technician, and rising star. There were separate categories for individual properties and industry suppliers.
Will was recognized for his supervision of two new luxury market rate properties in which lease ups are underway as well as for guiding a team of site managers and staff to meet budget and occupancy goals, finding solutions to unanticipated challenges, and serving as an effective mentor to less experienced co-workers. Will joined First Realty in 2007 as a temporary hire assigned to a leasing agent role. Over the past 14 years he has been promoted to site manager, senior manager with oversight responsibility for multiple sites including the Lawrence CommunityWorks portfolio, before being named to his current role as regional manager.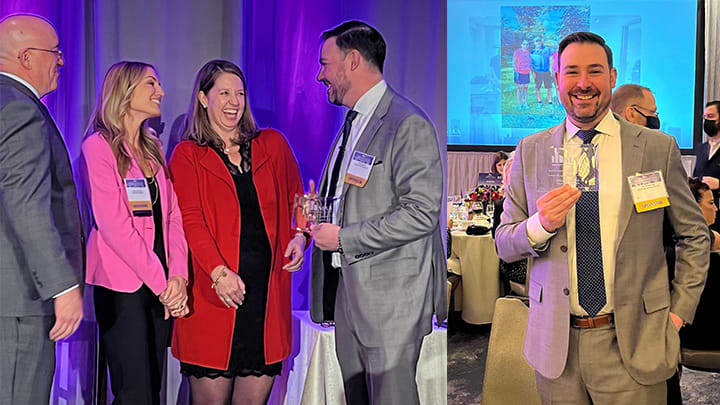 (Photo L-R: MAA Officers Peter Lewis, Jessica Buonopane, and Jennifer Murphy present awards to First Realty Regional Manager Will Woodward)
A senior technician at Burbank Apartments with 41 years of service at First Realty, Michael was recognized for his consistently high level of performance, and for going above and beyond routine levels of service to help provide the Burbank community with the best residential experience possible. When COVID-19 struck, he took it upon himself to find a bacterial disinfectant and double and even triple the frequency of high touch areas. He delivered essentials to elderly residents at when they couldn't get out of their apartments.
Out of the 500 work order requests since April 2020, Mike has completed about 370 on his own. He is an incredibly hard and talented worker. His good attitude, dependability, honesty, and work ethics contribute substantially to Burbank's success and the high quality of life that residents enjoy.
About First Realty Management
First Realty Management has provided comprehensive property management services in Boston and entire region for 67 years. The company's portfolio includes 84 properties with nearly 8,200 residential units throughout Massachusetts, Rhode Island, and New Hampshire. The company also manages nearly 740,000 square feet of commercial space. Headquartered in Boston, First Realty also has offices in Worcester and Providence.
For more information, visit firstrealtymgt.com, find us on Facebook or Instagram or contact Communications Manager John Scibelli at 617-423-7000 or by email at jscibelli@firstrealtymgt.com.