First Realty Management Corp. Named 2019 Management Company of the Year
Community Associations Institute ̶ New England has named First Realty Management Corp. of Boston as its Management Company of the Year for 2019
(March 6, 2020, Wellesley, MA) – First Realty Management Corp. has been named the 2019 Management Company of the Year by the New England Chapter of (CAI®) Community Associations Institute at the group's annual Chapter Dinner and Awards Night, Friday, March 6 at the Burlington Marriott Hotel in Burlington, Mass.
First Realty Management Corp. is a 66-year-old, privately-owned company with 7,500 residential apartment and condominium units under management at more than 85 properties throughout Massachusetts, Rhode Island, and New Hampshire. The company also manages 722,000 square feet of commercial space. The portfolio includes communities that range from high rises to townhouses, luxury oceanfront communities to properties managed for community development corporations. The commercial properties under management range from office, to retail, to industrial, to mixed use. The company has a history of success in managing properties at all stages of the property life cycle from those under development to those that are well-established. Headquartered in Boston, First Realty also has offices in Worcester and Providence.
First Realty adheres to the corporate vision We Create Quality Communities Together through a commitment to provide service before it's requested, to provide the best economic return for owners, and to provide employees opportunities for personal and professional growth. First Realty also ascribes to the highest standards within the real estate management profession. The firm first earned the Accredited Management Organization (AMO®) designation from the Institute of Real Estate Management (IREM®) in 1982. First Realty was recognized by the Boston Metropolitan Chapter of IREM® in October 2019, being named the 2019 AMO® of the year.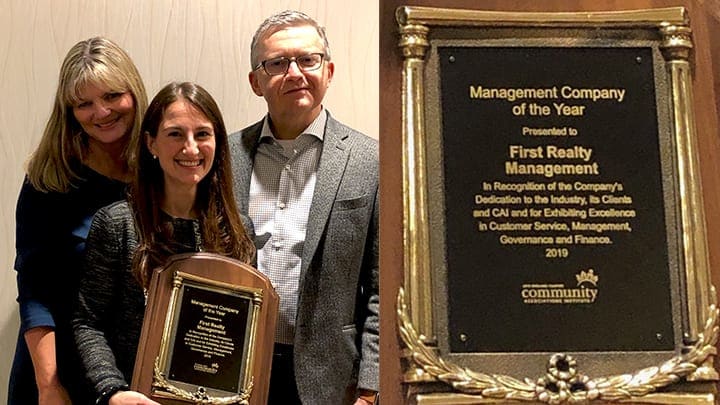 (Photo L-R: Director of Condominiums Sheila Spellman, Vice President Kathryn Kargman Holden, Chief Operating Officer Frank Cevetello)
About First Realty Management Corp.
For more information, visit firstrealtymgt.com, find us on Facebook or Instagram or contact Communications Manager John Scibelli at 617-423-7000 or by email at jscibelli@firstrealtymgt.com.
About the Community Association Institute - New England
The Community Associations Institute -- New England Chapter is a member organization providing education and information for condominium homeowners, board members, and industry professionals in Maine, Massachusetts, New Hampshire, Rhode Island, and Vermont. The organization's mission is to improve the operations, management, and quality of condominium living. With chapters worldwide offering services and programs to members, the New England Chapter of the Community Associations Institute (CAI-NE), established in 1979, is one of the largest chapters in the country. With hundreds of chapter volunteer leaders from around New England working in conjunction with professional staff, CAI-NE brings to New England association volunteer leaders, homeowners, industry professionals and providers of association products and services a variety of member benefits including a monthly chapter magazine Condo Media, educational seminars and webinars, networking events, publications and other resources designed specifically to address the unique challenges facing New England communities. Learn more at caine.org.