On Wednesday, June 15th, First Realty Management Chief Executive Officer Bill Kargman received the 2016 Inspiration Award from the National Affordable Housing Management Association (NAHMA) Educational Foundation. The award was presented at the NAHMA Educational Foundation's Annual Benefit, held for 2016 in San Francisco.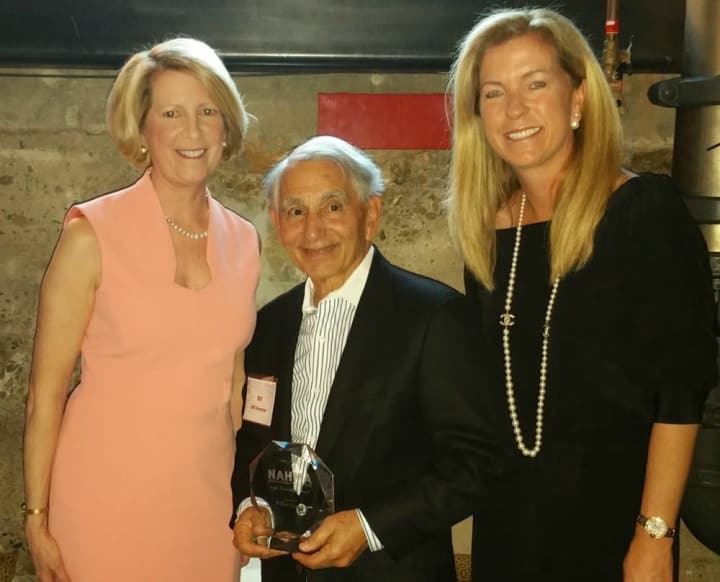 (l-r) Nancy Hogan, Vice Chairperson of the Board of Directors; Bill Kargman, Recipient of the 2016 Inspirational Award; Melissa Fish-Crane, Chairperson
From NAHMA's press release:
The award recognizes individuals for their long-time commitment to the advancement of educational opportunities for those working within the affordable housing industry and the residents they serve. Kargman is being recognized for his passion, vision and the profound impact he has had in advancing education in affordable housing communities. The Lynn & William Kargman Fund has generously supported the foundation's scholarship program over the years. Additionally, Kargman has been at the national forefront of the industry for more than 40 years. He served as NAHMA's first president in 1990 and was the first to propose NAHMA's Community of Quality concept as a benchmark of successful management of affordable housing.
"My 36 years of association with NAHMA has been one of the most rewarding educational experiences of my life."
About NAHMA Educational Foundation
The annual fundraising event supports the Scholarship Fund for the NAHMA Educational Foundation, a nonprofit corporation dedicated to furthering the educational opportunities of residents living at an Affordable Housing Management Association (AHMA) member property. The foundation annually grants educational scholarships to qualified applicants holding a high school diploma or GED who are pursuing higher education in a college, university, community college, trade/professional school or institution. Since inception, the foundation has awarded an impressive 423 scholarships in the amount of $731,750.
For more: https://www.nahma.org/about/educational-foundation/